This Article Appeared in the ABC Local News 30 Web Site
Link to the abclocal.go.com
---
KFSN-TV/DT abc30.com
February 4, 2006
Scientists Release Identity of Frozen Airman
February 4, 2006 - Four months after the body of a World War II airman was found in the high Sierra, we may finally know his identity.
Scientists knew the body belonged to one of four men on a military plane that disappeared back in 1942.
CNN cameras were there when a call came from the defense department to Ona Lea Mustonen. According to the man on the phone, the young man who had spent 63 years in ice at the bottom of a glacier was in fact Ona Lea's uncle, Leo Mustonen, an army cadet who was 22 years old when his plane disappeared.
"It's filling a pain and bringing it all together. To know how someone died, and what happened to them, stops the question mark," said Ona Lea.
Their mother, Louella Mustonen, was married to Leo's brother. She says he enlisted in the army during his senior year in high school and he was training to become a navigator. His disappearance back in 1942 left such a void that his mother, Anna, never got over it.
"She cried everyday," said Louella. "She waited for months but there was nothing coming."
Louella and her daughters, Ona Lea and Leane, say they finally have answers after so many years.
"...A lot of joy for me, mom and the whole family," said Ona Lea. "Just a sense of closure that we know what happened to him. Maybe we'll have something from him to remember him by, and a burial."
Action News has been unable to confirm the ID with the military, but the family is already making funeral arrangements in Minnesota, where the airman grew up. His personal belongings will reportedly be returned to the family within the next few days.
Copyright ©2005 ABC Inc., KFSN-TV Fresno
---
Commentary by G. Pat Macha
Written Oct 18, 2005
This crash is in my book on pg.365. The crash date was 11/18/42. The aircraft was a Beechcraft AT-7 #41-21079 USAAF lost in poor weather with a crew of four. The wreckage was finally discovered 9/24/47 on the Mendel Glacier in Kings Canyon National Park between Mt Darwin and Mt Mendel. In 1948 the US Army sent a team in recover the bodies. There was much more snow and ice in those years
One curious aspect to this crash is that only one flight officer is listed. The normal crew compliment would have been pilot, co-pilot, and three aviation cadets each with their own plotting table aft of the flight crew. It is possible the recently discovered body is that of a 1st or 2nd Lt who was part of the flight crew.
Addendum
Official U.S. Army Air Corps Crash Report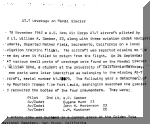 Click on picture for larger view!
This is an original document given to me by Bob Koch in1983. Bob was a USAF Search and Rescue man.
Oct 18, 2005 Oct 19, 2005 Oct 20, 2005 Oct 21, 2005 Oct 24, 2005
Oct 24, 2005 Oct 26, 2005 Nov 2, 2005 Nov 3, 2005 Nov 4, 2005
Nov 10, 2005 Nov 15, 2005 Feb 4, 2006