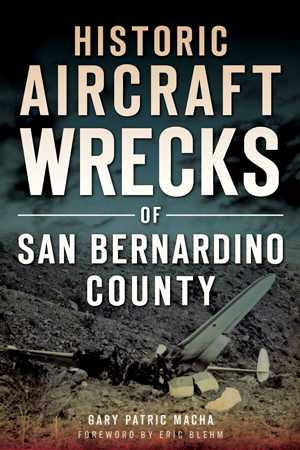 Published 2013
Available at Barnes & Noble, Planes of Fame Museum Shop, Amazon.com and Mountain History Museum, Lake Arrowhead, CA
Historic Aircraft Wrecks of San Bernardino County
Pat Macha. The History Press,
September 2013. ISBN: 1626190127, paperback, 6"x 9,"
128 pages, 75+ images and illustrations, index, bibliography, glossary. $19.95
This is the latest book in the excellent aircraft archaeology series by author Pat Macha. In it he tells the stories of over 425 aircraft wrecks that have occurred in California's San Bernardino County (east of Los Angeles). This area is the largest county in the lower 48 states, and stretches from barren deserts to towering mountain peaks. It is also the home of many past and present military bases and test ranges. Because of these factors, this area has been a fertile ground for aircraft accidents, and this book tells the story of many of them.
The book begins with coverage of the early days of flight in the county, both civil and military, up through WWII and the beginning of flight operations with jet aircraft. Many different types of aircraft were involved. These ranged from small single-engine private planes and military trainers to multiengine bombers and transport aircraft. Some examples were the Consolidated B-24 and the Douglas C-47. Experimental flight operations operating out of Edwards AFB have also added to many wreck sites in the county. One of the most famous of these accidents was caused by the mid-air collision of a USAF XB-70A Valkarie supersonic bomber and a Lockheed F-104 chase plane while on a photographic mission over the county. This crash and other well-known accidents are also well documented and described. The final section covers missing aircraft. These were aircraft that have disappeared while flying in the county area. Some of these aircraft have been located, while many have not been seen again.
The book is very well written and the author's style leads the reader from one story to the next in a seamless manner that makes for an enjoyable and informative read. Due to the extensive amount of data and the author's interesting presentation, the book will appeal to the history buff as well as the person reading for entertainment. The book is highly recommended for these audiences.
Paul Butler AAHS FLIGHTLINE #188, 3rd Quarter 2014 www.aahs-online.org
---