On 5/27/44 a memorial plaque was bolted to a rock just above the crash site. The inscription reads: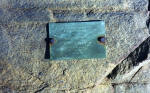 FEBRUARY 24, 1944
PV1 VENTURA BOMBER
TEST PILOT
GEORGE GOULD DORY
The Wings of God Took Up His Flight
"so long My Guy"
MARTHA
MAY 27, 1944
High on a steep-sided hilltop
You feel like a part of the sky
She came in the spring-time to leave there
A token of love for her "guy"
A quiet place where the cattle
Stood solemnly trying to share
The grief of the young widow Martha
For the loss of her flier so fair.
God fashioned the hills and the granite,
She added a simple bronze plate.
"God took him" it said, a loving goodbye.
His name, and hers, and the date.
A long time ago, and I wonder
Why I was led there to share
A bit of the story of Martha,
and the death of her lover up there.
Dan Crabtree