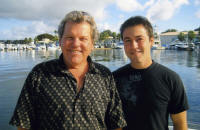 In the fall of 2009 Frederick Hoffman and his youngest son Nathan traveled from Northern California to San Diego. His mission was to pay his respects to a father he never had a chance to know. His dad was Walt Hoffman, first flight engineer aboard the ill-fated Convair B-36D that crashed into the Pacific Ocean west of Mission Bay 8/5/52. Walt Hoffman was the last man to bail out of the burning B-36D, but his body was never recovered.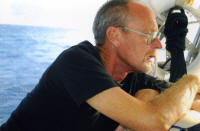 Captain Ray Arntz of the Sundiver II took Frederick and Nathan Hoffman to the exact spot where the B-36D lay for more than half a century.
Also on board the Sundiver II were G. Pat Macha and his wife Mary Jane.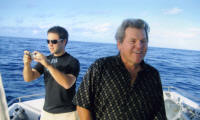 Frederick and his son Nathan over the final resting place of B-35D 49-2661A.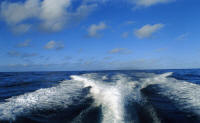 Departing the crash site on an early fall morning brought a sense closure and understanding for all on board the Sudiver II.
(All photos by G. P. Macha)