Aircraft Wrecks in the Mountains and Deserts of the American West
---
My Remembrance Project
By Dave Trojan, davidtrojan@earthlink.net
I have spent more than two decades researching, visiting and documenting aircraft crash sites. During this time I have explored several hundred crash sites. I have learned a lot from them, but the most rewarding experiences were the special cases where family members got involved.
The identification of a crash site can lead to the beginning of another investigation, the search for families and relatives that can take years. Typically, families were told little or nothing about what really happened to their family member. Sometimes, especially during World War II, the families only knew that their family member was killed in an air accident via telegram. I believe the truth about what happened is out there waiting to be known and the families deserve the truth.
In some cases I have re-investigated accidents at the request of families who could not visit the site, but wanted to know the truth about what happened. In other cases I have reached out and contacted family members on my own if I uncovered new information that I thought was important. In all these cases, I have provided the families with detailed reports of what I believed were the factors involved in the accidents. I have freely given my time and resources to facilitate the requests of the next of kin. Some of my investigations have taken years to complete the story. My only compensation is discovering the truth and understanding about what was lost to the ages. My labor in Aviation Archeology has been very rewarding personally, because in several cases I was able to help bring long sought after closure to family members.
On rare occasions I have accompanied family members to the crash sites. Making the journey to a crash site is like making a pilgrimage to a sacred monument and opening a time capsule that offers a chance to connect with people from the past in a direct way. Seeing a crash site first hand has a different impact on each visitor. To many family members, these sites are a solemn location to connect with lost loved ones. Visiting a site can open a window into the past and be very touching. A family member visiting a crash site may experience intense emotions because it brings them closer to knowing a lost relative that they never knew. With the help of Aviation Archaeology, generations can better understand the unique circumstances of a fatality due to an aviation accident.
Aviation crashes intrigue me because each site is like a time capsule of aviation history and I'm able to touch, exam, and investigate, not just read about it. I have gained knowledge about different aircraft types by investigating the accidents. As an air crash detective, I have used forensic scientific tools, technology and techniques along with old historical records to have a much better understanding of the factors involved in aircraft accidents. During the investigations I have learned about aircraft construction, modifications, aircraft faults and weaknesses. Discovering details like the exact paint color, field modifications and how a particular aircraft were equipped adds to the overall knowledge of aviation history. I have also learned what happens to crash sites over the years, why remains were left behind, and the processes used by the authorities to respond to accidents. I originally became attracted to Aviation Archaeology because of my interest in the engineering of the aircraft, but as I continued to learn more about the accidents, the human interest stories became the focus.
Each and every relic that I have uncovered is a new history lesson, providing a glimpse at aviation life in the past. Educating the public about the history, the importance of these sites and the sacrifices of those who paid the ultimate price is what I do. It has become my mission to investigate these sites and gather information from eye-witnesses before both are lost forever. I use Aviation Archaeology to help preserve aviation history, because, history that is unrecorded, is history lost.
At most fatal crash sites that I have been to, I have left behind American flags in tribute to the fallen. There have also been several crash sites that I took it upon myself to erect more lasting memorial markers. I hope that these will help protect the historical sites from damage from the uninformed public. I also work with landowners, whether they are private, state or federal to preserve sites so that future generations can visit them.
After visiting many of the crash sites, I have felt compelled to write short stories about them as another form of a lasting tribute and memorial to the crewmembers. I like to say "Every wreck has a story to tell" and it is up to me to tell it. Many times I have corrected the historical record by discovering that the pilot was not to blame. I like to discover the facts, fill in the blanks, explain the mysteries of why the planes crashed and finally lay the questions to rest by writing the stories. The stories give light to those who have sacrificed so much to give us the peace we enjoy today.
I believe that each generation has the obligation to pass these inherited stories on to the future. Someday, I hope to compile them into a book, but for now I have just been granted space on the Project Remembrance web site. As a "new" Project Remembrance Team Member, I feel like I have been doing this kind of thing for years, but it is nice to have a place to post my accomplishments.
I have done all of these things as a public service, because they just needed to be done to remember and honor the sacrifices of those who paid the ultimate price.
They are not forgotten!
Aloha, Dave Trojan
Attached are some of my more interesting stories. I hope you enjoy and learn from them.
These stories are all formatted as .PDF

New Story Searching for answers at a Beech T-11 wreck site

New Story Remembering Pilot Mabry Simmons and the Miller Hill Crash

New Story Wildcats running wild at Mojave

New Story RH-53D Helicopter crash
In Memory of the 66, May They Rest in Eternal Peace?
TBM-3Q Avenger crash site revisited
FG-1 7/31/44 PR Story Remembering a Hero
P-47 crash site Box in the barn story
Plane and Pilot just fell out of the Sky
Three Luke Pilots take off and never return
Vultee's Last Flight and The Circle of Life and Death,
A visit to the crash site of Jerry and Sylvia Vultee by their son Pete Vultee and cousin John Vultee
The Circle of Life and Death at the Vultee
The Tragic Crash of CH-3E, 65-05692, These Things I Do...That Others May be Remembered
P-3A Orion 152159 Accident Investigation
60 Years Later, Navy Man and Tragic Plane Crash Remembered
Chasing the tears of a Marlin while running with the bulls
Investigation of a P5M Marlin flying boat crash
P-59A, Mid-Air Collision over Mojave
<![if !vml]>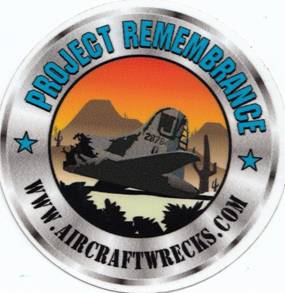 <![endif]>