Aircraft Wrecks in the Mountains and Deserts of the American West
---
Douglas DC-3 N15570
The Gamblers Special
2/18/69
Patricia "Patty" Nannes was only twenty-one years old at the time of her death. Patty was the only stewardess on Hawthorne Nevada Airlines Douglas DC-3 N15570 Flight 708 en route from Hawthorne, Nevada to Burbank, California. With thirty-five passengers and crew the plane disappeared in a blinding winter snow storm on 2/18/69.
A private pilot Stanford Dow and his wife spotted the wreckage of N15570 on 8/8/69, which would have been Patty's twenty-second birthday. When rescue teams finally reached the site, snow was still present making the recovery of those on board very difficult. By August 15 all bodies were "reported" recovered from the remote crash north of Mt. Whitney.
Noted peak bagger and wreck hunter Tom Gossett may have been the first to re-visit the wreck during his alpine style climb in August 2002. Tom reported that some remains and personal effects were present, and he said he was overcome by what he saw. Since that time only a few climbers and wreck hunters have reached the site. Most have taken only photos, but some may have removed personal effects and other items.
Members of Patty Nannes family and other next of kin from Flight 708 are appealing to everyone to respect the crash site as a memorial site for all thirty-five men and women who perished there.
Persons wishing to communicate directly with Kristen can do so by e-mailing her at 2mnycrtrs@montanasky.com.
(All photos property of Kristen Nannes Kehoe)
Protocols for all crash site visitations should be: remove nothing, disturb nothing, take photos only.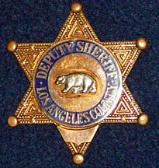 Addendum: Char Winfrey Buckley, the sister of Carolee Winfrey Dalbec, who was killed on Flight 708 along with her husband Patrick, has appealed for help in locating her brother-in-laws badge shown here. Patrick Dalbec was a Los Angeles County Deputy Sheriff at the time of the crash and he was carrying his badge on Flight 708. Patrick has a son who followed in his fatherís foot steps to become a Fresno County Sheriff, and the return of the badge would mean a great deal to Char and her nephew. Char Winfrey Buckley can be reached at cbuckley mailto:cbuckley1@san.rr.com .
(Badge photo courtesy Char Winfery Buckley)
Orange County Register "4 part" Article Links
"Facebook revives plane crash mystery" Sept 28, 2011
"Facebook mystery from 1969 plane crash revealed" Sept 29, 2011
"What did hiker find at '69 plane crash site?" Sept 30, 2011
'69 plane crash pin finds way back to O.C. Oct 29,2011
KABC 7 TV News aired the "Gamblers Special" story on, Sunday Oct 30th, 2011
Patricia "Patty" Nannes was only twenty-one years old at the time of the crash.


Patty's pin found at the crash site.

First Officer Raymond Hamer, a 3,445 hour pilot, in his Hawthorne Nevada Airlines uniform. He served aboard Flight 708 on February 18, 1969, and was forty-one at the time of his death. (Photo courtesy Lisa Jamison)


Raymond Hamerís spare hat pin. (photo courtesy Raymond Hamerís niece, Lisa Jamison)

The tail assembly of Douglas DC-3 N15570 taken on August 12, 1969 during recovery efforts.

Partial N numbers are visible on the mostly buried empennage section of N15570. Photo by Taylor Eslick taken on August 8, 2019

August 8, 2019, was the 50th anniversary of the discovery of the Gamblers Special DC-3, and Taylor Eslick hiked, and climbed for ten grueling hours with a fifty pound pack to bring his hand carved memorial to the crash site. Taylorís memorial carving includes the names of all thirty-five victims, and holders for thirty-five candles. As dawn broke on the 8th of August, Taylor lit the candles in the still mountain air. He then read aloud the names of all those who had died on the night of February 18, 1969. Taylor closed the sunrise memorial by saying the Lordís Prayer. It took seven hours to climb down to his truck.Taylor then spent the evening with family of Captain Fred Hall, the pilot of the ill-fated Gamblerís Special. At the request of the Hall Family, Taylorís memorial carving will be displayed at the Hawthorne Mineral County Museum of History, in Nevada. No one that I know of has made more trips to the Gamblerís Special site than Lake Tahoe area resident, Taylor Eslick. Taylorís efforts to assist next of kin wishing to learn more about the loss of loved ones, and to memorialize all who died aboard N15570 is a fine, on going Project Remembrance mission. G. Pat Macha (Photo Courtesy Taylor Eslick)