Aircraft Wrecks in the Mountains and Deserts of the American West
---
The search for Steve Fossett has turned up dozens of old crash sites in the mountains and deserts of Nevada. Some news media have reported that many of these are "long missing" aircraft. To the best of my knowledge all of the sites located so far are not missing aircraft at all, and some are listed on the CAP Crash Locators, save perhaps one. Some of the old wrecks seen so far date from WWII, and some are general aviation aircraft from the 1950's, 60's, 70's, etc.
I've been asked to offer an opinion regarding Mr. Fossett's disappearance, and there are a number of possible scenarios that have been discussed, including heart attack or stroke, localized winds and turbulence, flying into the ground while examining a possible area to make his land speed run. Why hasn't the plane been found? Post impact fire making the wreckage extremely hard to see, or it's submerged in a lake. The search effort is a first class operation and I wish the searchers good luck and Godspeed in resolving this case.
Everyone should keep in mind that there are missing aircraft still unaccounted for. In California one recent case remains unresolved, and that dates from 6/3/01 when David Katz and his Piper PA-28 N8253W disappeared from the radar screens over Lytle Creek in the lower Cajon Pass area. Weather at the time was typical "June Gloom" or a very deep marine coastal cloud layer that had filled the inland valleys. Mr. Katz was on a local flight at time of his disappearance. A review of the Katz search area using the latest Google satellite high resolution photos are recommended now using known crash site locations as benchmarks. The Steve Fossett search effort is now using Google Earth high resolution photos and that's a fine idea. I hope some of the recently found "old wrecks" in Nevada have been benchmarked in that effort as well.
G. P. Macha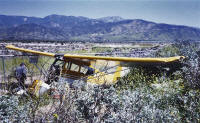 This Champion Citabria was heavily damaged in an accident near Redlands Airport in the early 1990's. If Steve Fossett's aircraft crash landed it might resemble the plane in this photograph, and it would be relatively easy to spot. (G.P. Macha photo)
Addendum:
It has been confirmed that Mrs. Peggy Fossett, the Widow of Steve Fossett wants a search effort to continue this coming spring in an effort to determine what happened to her husband, and why.
Addendum: 6/29/2008
The first anniversary of Steve Fossett's disappearance will soon be here. While no formal coordinated search effort seems to be underway, small groups of private individuals are searching, following numerous leads and hunches. I have been contacted regarding "old crash sites" where three different groups continue to revisit old known sites. I do believe this summer's efforts may pay off, and if they don't it may be a very, very long time before this mystery is solved.
Addendum: 10/9/08
Site Of Fossett Wreckage Snowed In, Investigation Continues
The site of Steve Fossett's crash, above 10,000 feet in the rugged Sierra Nevada mountains near Mammoth Lakes, Calif., was covered in about two feet of snow over the weekend, and officials said they will probably not be able to return to the site until next summer. However, the NTSB already had retrieved the wreckage and the engine of the Decathlon that Fossett was flying, and the investigation will continue. "A revised report and a determination of probable cause will be issued upon completion of the investigation," the NTSB said. Several bone fragments found at the site have been sent to a lab to see if they can be identified as a match for Fossett. One of the searchers, who has posted some photos of the recovery effort online, said he was "amazed" by how thoroughly the site had been cleaned of debris. "Only a few pieces about the size of a silver dollar or smaller" remained, he said.
Steve Fossett Crash Recover Photos and Maps

The NTSB Final "Factual" Report

See PA-22 story for another example of a fabric covered missing aircraft.