Title: Fate On A Folded Wing Highly Recommended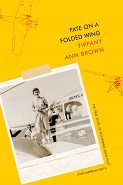 Author: Tiffany Ann Brown
ISBN-13: 978-1-943588-82-4
The aviation achievements of Mrs. Joan Merriam Smith are well told in this book. The author emphasizes Mrs. Smith's solo around the world flight accomplished in 56.5 days between March and May of 1964. The flight was made in a twin engine Piper PA-23 Apache N3251P named The City of Long Beach. The fate of 51Papa in the Mojave Desert, and the tragic flying accident that claimed the lives of Mrs. Smith and her passenger, Trixie Ann Schubert less than a month later are well examined. The author is the granddaughter of Trixie Ann Schubert.
Title: The Marines Lost Squadron the Odyssey of VMF-422 Highly Recommended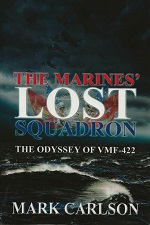 Publisher: Sunbury Press, 2017, 348 pgs.
Illustrations: b/w photos & maps included
Published: 2017 Price: $19.95
How could twenty-four U.S. Marine Corps Vought F4U-1D Corsair fighter aircraft disappear on a flight from Tarawa to the Ellice Islands in 1944? You'll find out in this well written and researched book. Tropical storm fronts, raging winds, high seas, and shark make this tale well worth the readers time. The role of piloting skills, pure luck, and other factors are explored in this gripping story. Was this the largest loss of aircraft and men on one mass flight during WWII in the Pacific? You'll find out the answer to that too. The author is legally blind, but his work is visionary.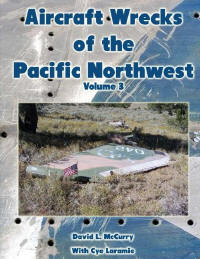 Title: Aircraft wrecks of the Pacific Northwest Volume 3 Highly Recommended
Author: David L. McCurry with Cye Laramie
An interesting read that is very well illustrated, and a must have book for those who want to visit crash sites in the wilds of the Pacific Northwest.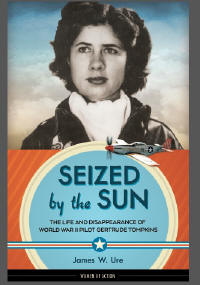 SEIZED BY THE SUN: Highly Recommended

The Life and Disappearance of World War II Pilot Gertrude Tompkins

By James W. Ure

Chicago Review Press

Women of Action Series
young adult nonfiction / biography
"Part concise history of the WASPs and part unsolved mystery, Seized by the Sun is a long-overdue tribute to a determined and talented young woman as her identity changes from a shy and stuttering society girl to a confident military pilot. A deftly reported, shining portrait of an inspirational woman." —Elizabeth Wein, award-winning author of Code Name Verity and Rose Under Fire
"Seized by the Sun is a compelling slice of Americana and a wonderfully detailed glimpse at life in the WASPs from the perspective of a privileged yet tortured young woman." —Kathryn J. Atwood, author of Women Heroes of World War II
Of the 38 Women Airforce Service Pilots (WASPs) confirmed or presumed dead in World War II, only one—Gertrude "Tommy" Tompkins—is still missing. On October 26, 1944, the 32-year-old fighter plane pilot lifted off from Mines Field in Los Angeles. She was never seen again.
Seized by the Sun is the story of a remarkable woman who overcame a troubled childhood and the societal constraints of her time to find her calling flying one of the fastest fighter planes of World War II. It is also a compelling unsolved mystery.
Born in 1912 to a wealthy New Jersey family, Gertrude's childhood was marked by her mother's bouts with depression and her father's relentless search for a cure for the debilitating stutter that afflicted Gertrude throughout her life. Teased and struggling in school, young Gertrude retreated to a solitary existence. As a young woman she dabbled in raising goats and aimlessly crisscrossed the globe in an attempt to discover her purpose.
As war loomed in Europe, Gertrude met the love of her life, a Royal Air Force pilot who was killed flying over Holland. Telling her sister that she "couldn't stop crying, so she focused on learning to fly," Gertrude applied to join the newly formed Women's Airforce Service Pilots. She went on to become such a superior pilot that she was one of only 126 WASPs selected to fly fighter planes. After her first flight in the powerful P-51 Mustang, her stutter left her for good.
Gertrude's sudden disappearance remains a mystery to this day. Award-winning author James W. Ure leads readers through Gertrude's fascinating life; provides a detailed account of the WASPs' daily routines, training, and challenges; and describes the ongoing search for Gertrude's wreck and remains. The result of years of research and interviews with Gertrude's family, friends, and fellow WASPs, Seized by the Sun is an invaluable addition to any student's or history buff's bookshelf.
James W. Ure is a former staff writer and editor at the Salt Lake Tribune and wrote features for the Deseret News, as well as other newspapers and magazines. He is also a former publicist and executive director of the Sundance Film Festival. He lives in Salt Lake City, Utah.
Excerpt:
A woman with gray eyes walked toward the aircraft. Her curly dark hair bounced lightly against the collar of her leather flight jacket. As a Women's Airforce Service Pilot, or WASP, Gertrude Tompkins's job was to fly this sleek plane across the country to Newark, New Jersey. From there it would be shipped to Europe for combat against Nazi Germany. . . . Gertrude climbed into the cockpit and settled in the metal bucket seat, using her parachute as her cushion. She latched the seat belt and shoulder harness. Gertrude punched the ignition switch. The four-bladed propeller made a slow, hesitant turn. The exhaust ports exploded noisily, streaming acrid smoke back into the cockpit as the big paddles bit into the air faster and faster. She ran up the throttle. The engine reached a high-pitched snarl. The exhaust ports breathed clear now. It had come alive, this airplane, and was shivering to be away.
Women of Action is a lively, accessible biography series that introduces young adults to women and girls of courage and conviction throughout the ages.

Title: BENEATH HAUNTED WATERS Highly Recommended
Author: Peter Stekel
Price: $18.95
Peter Stekel has achieved a penultimate success with this compelling must read work about two B-24 Liberators that vanished in California during WWII. The Hester and Huntington Lakes B-24's are part of High Sierra lore. The author has provided an in-depth understanding of what happened and why. He pays close attention to the suffering of the next of kin, and the determined heroism of one crewman's father in searching for his lost son.
BENEATH HAUNTED WATERS by Peter Stekel will be available on Amazon on September 1, 2017 for $18.95.
The author tells a compelling story about two B-24 Liberator bombers that vanished over the High Sierra
in 1943. This book is well illustrated, and is Highly Recommended!

Title: The Complete Book of the SR-71 Blackbird HIGHLY RECOMMENDED
Author: Richard Graham
Format: Hardcover
ISBN: 9780760348499
Publisher: Zenith Press
Illustrations: 320 color & 116 b/w photos
Size: 10.125 x 12.375
Published: 10/26/15
Price: $50
The penultimate book about the Lockheed A-12, YF-12, and SR-71 aircraft. This comprehensive work is both visually satisfying, and intellectually engrossing. Twelve Blackbird accidents are also described, along with the disposition of surviving aircraft today. This is a must have book!

Title: Finding Carla Highly Recommended
Author: Ross Nixon
Format: Soft cover, 230 pages
ISBN-10 1619543435, ISBN-13 161543430
Publisher: Aviation Supplies Academics, Inc.
Size: 6"x 9"
Date Published: September 2016
Price: $15.00
I was privileged to read a preview copy of this most interesting book. There has never been a more compelling story of survival against all odds, with such a sad end than Finding Carla The Story That Changed Search & Rescue Forever. Ross Nixon is an experienced Alaskan bush pilot, and active duty airline Captain who has spent years researching this legendary tale. The author worked with next of kin to provide in-depth details about the pilot and his two passengers aboard Cessna 195 N9388A who flew into aerospace history on March 11, 1967. Excellent use of photos and maps add this fine work.

Title: Flights Of No Return Recommended
Author: Steven A. Ruffin
Format: Hardcover, 256 pages
ISBN: 9780760347928
Publisher: Zenith Press
Illustrations: 50+
Price: $30.00
This well written work describes all of the famous missing aircraft stories we've heard of, plus some new ones too! Mysteries intrigue, so dive into this these tales of mostly unresolved losses spanning 230 years!

Title: Nebraska's Fatal Air Crashes of WWII Highly Recommended!
Author: Jerry Penry
Format: Hardcover, 320 pages
ISBN: 978-0-9679041-3-9
Publisher: Blue Mound Press
Illustrations: More than 150 photos and maps
Size: 8.5" x 11"
Date published: 2009 & 2010
Price: $42.00
In-depth, WWII subject specific, a model for authors in other states. Aviation accident history and aircraft archaeology rolled into one fine book. Well researched and documented with excellent maps and photographs.

Review Coming Soon

Title: 81 Days Below Zero Highly Recommended
Author: Brian Murphy with Toula Vlahou
Format: Hardcover 238 pages
ISBN: 978-0-306-82328-2
Publisher: Da Capo Press
Illustrations: 24 B&W photos, and 2 maps
Size: 9.25"x 6.50"
Published: 2015
Price: $24.99
Survival against all odds in the most difficult environment imaginable are hallmarks of this book. A long missing B-24 in Alaska spotted from the air in June 1994 leads to a research project that details how one man, by courage, and good fortune achieves a unparalleled record of survival in North America. A must read, that reminds us of those who crashed, and did not make out of the wilderness alive.

Review Coming Soon

FLYING WARBIRDS Recommended!
Author: Cory Graff
Format: Hardcover, 240 Pages
ISBN: 9780760346495
Publisher: Zenith Press
Illustrations: 195 color & 59 b/w photos
Size: 9.75 x 12 inches
Published November 2014
Price: $40.00
This reasonably priced coffee table book is loaded with outstanding photos of nineteen historic military aircraft owned by the Flying Heritage Collection. An operational history accompanies each warbird, including where it was acquired, and restored. Flying characteristics and the choice of paint schemes and national insignia are described. The full color cockpit and engine photos are intriguing, and a personal favorite of mine. Historical black & white images enhance the readers understanding of the operational use of these now rare aircraft. The author does an outstanding job of blending eye catching photographs with a well written history that will hold the attention of every warbird expert, and casual reader alike.
Broken Wings

Highly Recommended!
By: Gregory P. Liefer
ISBN: 978-1-59433-472-6
LCCN: 2014940557
Publisher: Publication Consultants
Pages: 288
Price $22.95
Format: 6 x 9 inches Perfect Bound
Books about Alaska have always intrigued me, especially when aircraft crashes are involved. This is the author's second work dealing with aviation accidents in the high latitudes. The first chapter discusses losses involving notable Alaskan aviation pioneers, and the four chapters that follow describe accidents within specific geographic regions. All of the more than thirty stories in this edition are about civilian aircraft including private, charter, and airline accidents. The extensive use of maps, charts, and photos adds to the readers interest and enjoyment.

HIDDEN WARBIRDS II Highly Recommended!
By: Nicholas A. Veronico
ISBN: 978-0-7603-4601-3
Publisher: Zenith Press
Pages: 256
Price: $30.00
Format: Hardcover, 6 1/2 x 9 1/4
A must have companion for HIDDEN WARBIRDS I. HIDDEN WARBIRDS II features more than twenty stories and more than 150 photos. I can highly recommend this book for several reasons. The author takes the reader to places and times that few of us can reach or know in their lifetime. The unique quality of photos that compliment each and every story effectively captures the reader's imagination. If you're interested in warbirds, especially the rarest of the rare, then this book is definitely for you. How many of the rare Hawker Tempest remain in existence today? The author provides the latest statistics for those still flying, on display only, under restoration, or in storage. These are the details that give this book the depth that aviation aficionados especially appreciate.

Historic Aircraft Wrecks of San Bernardino County
By: G. Pat Macha
ISBN: 978-1-62619-012-2
Publisher: The History Press
128 pages
Price: $19.99
Please read the forward to Pat's book by Eric Blehm
Available at Barnes & Noble, Planes of Fame Shop, Amazon.Com, and book sellers everywhere.

Aircraft Wrecks of the Pacific Northwest Volume 2 Highly Recommended!
By: David L. McCurry With Cye Laramie and Don Hinton
ISBN: 9781496188410
Publisher: Merriam Press
292 pages
Price: $45.00
8 1/2 x 11 format.
Well written and illustrated with extensive use of color photos. Crash site lists, with coordinates, for Washington, Oregon, and Idaho are included. 34 crash sites are described in detail, plus a chapter on desert war relics. Dave and his co-authors have nailed the aircraft wrecks of the Pacific Northwest region with this second of two volumes on the subject.

Fatal Crossing
By: V.O. Van Heest
ISBN: 978-098897721-1
Publisher: in-depth edition
367 pages
Price: $19.95
Good read about the the disappearance of Northwest Airlines Douglas DC-4 on 6/23/50 with fifty passengers and crew on board. Flight 2501 vanished in a thunderstorm over Lake Michigan, and debris, along with some human remains were found shortly after the accident washed up on the beaches of west Michigan State. Where did the DC-4 hit the water, and where is the lakebed wreck site? That's the mystery, and local wreck hunters assisted by Clive Cussler make a multi-year effort to find it, but do they? Read and find out.

VANISHED The Sixty-Year Search for the Missing Men of World War II
By: Wil S. Hylton
ISBN 978-1-59448-727-9
An excellent tale of what determination, research, and field work can accomplish in searching for three B-24J's lost during 1944 in Palau area of eastern Micronesia. One particular B-24J is the focus for possible recovery aircrew remains. The role of JPAC, independent searchers, and next of kin of the missing airmen are featured.
HIDDEN WARBIRDS The Epic Stories of Finding, Recovering, and Rebuilding WWII's Lost Aircraft

New
By: Nicholas A. Veronico
ISBN: 9780760344095
Publisher: Zenith Press
Format: Hardcover, 256 Pages
Photos: 175 color & 25 b/w
Price: $30.00
The title says it all! I can highly recommend this easy to read well illustrated book that will enlighten readers about historic aircraft that have been discovered, recovered, and restored. The reader will also gain an in-depth understanding of what it takes to locate, legally recover, and rebuild rare aircraft that will be preserved for future generations to enjoy. This book will prompt aviation enthusiasts to wonder about undiscovered veteran and vintage aircraft in the jungles, mountains, deserts, lakes, seas, and oceans of our vast planet. There will be discoveries to come, that's for sure!
Hidden Warbirds is also available as E-Book.
G. Pat Macha

AIRCRAFT WRECKS of the PACIFIC NORTHWEST Highly Recommended!
My new book, Aircraft Wrecks of the Pacific Northwest is now available for purchase. This 8 1/2 x 11" full color book is 241 pages, including 33 chapters describing various military and commercial aircraft crash sites as they still exist throughout the northwest region today.
Books are available through me at a cost of $49.95 with free shipping throughout the United States. Copies can also be purchased through Merriam Press or Amazon Books at the same cost.
Anyone interested in purchasing a copy from me can make payment though PayPal at dvmccurry@yahoo.com or by mailing a personal check, cashiers check, or money order to:
David L. McCurry
4208 Sonora Drive
Pasco, WA 99301

FEARLESS: The Undaunted Courage and Ultimate Sacrifice of Navy SEAL Team SIX Operator Adam Brown

New
By Eric Blehm
ISBN 978-0-307-73069-5
$21.99 Hardcover
257 pages including
more than thirty-five photos
I read Fearless twice because the story of Adam Brown and his team mates is so compelling. This is not an against the odds tale;
this story describes a life against all imaginable odds and then some! Every U.S. citizen needs to know what is being sacrificed for
our protection, and what the costs are for the families of those who are injured or killed. Eric Blehm takes the reader to the raw reality of the home front and the war front.
Thanks to the writing and research skills of noted author Eric Blehm the reader is enmeshed in the lives of these selfless warriors who every day are serving, protecting, and sacrificing on our behalf. SEAL Team SIX Operator Adam Brown's life and death proves that the ideals of the WWII "Greatest Generation" resonate still.

THE SANTA BARBARA B-24 DISASTERS
ISBN: 9781609495718
Page Extent: 128 pp.
Trim Size: 6 x 9
Over 55 images
Published: May 2012
I highly recommended this fine book that has just been released in May 2012.
Link to Book Site

WRECKCHASING 101 A Guide To Finding Aircraft Crash Sites
By Nick Veronico, et al
ISBN-10 0-9830-6064-9
ISBN-13 978-0-9830-60643-2
$24.95 9 1/2 x 7 1/2, soft cover
More than 100 photos, maps,
sample accident reports, and crash site database.
Published by Stance & Speed.Com
Recommended for all those interested in aviation accident history, and the special circumstances that make many of the included stories so intriguing. This book also offers helpful tips on equipment, do's and don'ts of wreck hunting, legal issues concerning wreckage removal, placing memorials, how to obtain accident reports, plus much more.

HEARTS OF COURAGE
The Gilliam plane crash and the amazing true story of survival in the frozen wilderness of Alaska
By John M. Trippets
ISBN: 978-1-59433-0773
$19.95 9"x6" soft cover
144 pages with many photos and maps
Publication Associates in Anchorage, AK
Well researched and written this is a must read book about an epic story of survival against incredible odds. Battling the effects of injuries, lack of food, and extremely low temperatures makes every page a tense and gripping reading adventure. The extensive use of photos and maps, many in color, adds to the value of this fine book.

AVIATION MYSTERIES OF THE NORTH
Disappearances in Alaska and Canada
By Gregory P. Liefer
ISBN 978-159433195-4 $19.95
Publication Consultants
272 pages
Dozens of maps and photos
Soft cover 6" x 9"
Thoroughly enjoyable book that leaves the reader wanting more, well researched and focused on seventeen disappearances. Only two of these cases have been solved to date, and the others tantalize us with a myriad of questions and possibilities.
FINAL FLIGHT
The Mystery of a WWII Plane Crash and the Frozen Airmen in the High Sierra
By Peter Stekel
ISBN 978-089997-475-0 $15.95
Wilderness Press
Soft cover 236 pgs 5Ľ" x 8"
35 photos, 2 maps
Peter Stekel's well crafted book demonstrates his understanding of the Sierra Nevada Mountains, and through his extensive research he confirms the fate of four U.S. Army aviators after their tragic disappearance in November 1942, while on a routine training mission. The author weaves a tale of mystery and intrigue that blends the 1947 discovery of this missing aircraft with the discovery this century of two of the four crewmembers. Mr. Stekel's remarkable work on the Mendel Glacier earns well deserved praise for contributing to the resolution of this mystery.

CRAZY FOR THE STORM
A Memoir of Survival
By: Norman Ollestad
ISBN 978-0-06-176672-5
A compelling read by the sole survivor of a the 2/19/79 crash of Cessna 172 N1527V in the San Gabriel Mountains near Mt. Baldy village. The survivor was only eleven at the time, and his descent on the fog enshrouded, snow and ice encrusted west flank of Ontario Peak brings the reader to the very edge of his seat in more ways than one.

RUNWAYS IN THE SAND
The History of Blythe Army Air Base in WWII
By Art Wilson
ISBN 978-0-615-21889-2 $21.95
Contact Mr. Wilson in Blythe to purchase Hardcover 128 pages, 81/2" x 11" format
www.blytheairbase.com

This is a must have reference for aficionados of U. S military base histories, and a good reference source for aviation accidents in and around Blythe AAB. Maps and photographs abound in this labor of love by retired California Highway Patrol Lt. Art Wilson. Blythe was primarily a B-24 bomber training base, and it was a frequent stopover for transient aircraft from 1942 to 1945.

X-PLANE CRASHES
by Peter W. Merlin and Tony Moore
ISBN 10: 158007121X $29.95
Specialty Press 1 (800) 895-4585
Here's a must have work by two experts in the field. With 160 pages, almost 300 photos, and the detailed accident stories of the most famous and obscure X-aircraft will leave the reader well satisfied. Years of painstaking field work and research by the authors provide us with a clear picture of where the X-wrecks are and how they got there. This book also includes a valuable chronological listing of more than five-hundred accident sites in and around Muroc/Edwards AFB and Area 51 in Nevada.
The Restoration
by David J. Bean
ISBN 0-970-2098-1-9
Ho Logos Press Cypress, CA 90630
This well written 350 page book documents the location, recovery, and restoration of Northrop N3PB Serial Number 320 flown by the Royal Norwegian Air Force and seconded to RAF 330 Squadron based in Iceland during WWII. The history of 330 Squadron is also discussed and the fate all twenty N3PB's flown by the Royal Norwegian Air Force is included as well. Dozens of photographs, maps, diagrams, and three view drawings add to the quality of this book as does this unique story of aircraft restoration from the wreckage on up.

The Last Season
Eric Blehm
Available in hardbound and paperback
ISBN-13: 978-0-06-058300-2
ISBN -10: 0-06-058300-2
This book is about a Sequoia and Kings Canyon Park Ranger who disappeared in the High Sierra in 1996 and the extensive search for him that followed. While the focus of this well written book is not about missing aircraft the author does discuss the story of the Consolidated B-24E that vanished over the High Sierra in December 1943 and how difficult it was to locate that crash site despite years of searching. The Last Season provides the reader an understanding and a sense of how the vast and rugged wilderness can seemingly swallow a large aircraft as well as a veteran ranger of the back country. The stories of the missing haunt us, we need to know their fate, and this book does a fine job of engaging the reader in this enthralling mystery. (G. Pat Macha)
FINDING BILLY: An Internet Odyssey
Diana Thompson Dale
ISBN 0-9741596-3-8
The Last Flight of Bomber 31
Ralph Wetterhahn
ISBN 0-7867-1684-3
A must read for those interested in WWII air operations against Japan that originated from Alaskan bases. This book is not just about one loss, Lockheed PV-1 BuNo 34641 that crashed in Russia with the loss of the entire crew, it's also the story of those interned in the Soviet Union during WWII. The appendices of this book provided the researcher with details of many USAAF and USN aircraft losses in and around the Aleutian Islands during the Second World War.
Fatal Army Air Forces Aviation Accidents in the United States 1941-1945
Anthony J. Mireless
ISBN: 0-7864-2106-1
Published by McFarland Publishing Box 611, Jefferson, North Carolina 28640, Phone orders: (800) 253-2187. Softcover three volume set, 7x10, 2006, 1336 pages includes appendices, notes, bibliography, and index. $195 for the complete set or $75 each individual volume.
Anthony Mireless obtained the microfilm for every fatal USAAF aircraft accident in the continental United States and wrote a crash summary for each one including location, aircrew names, and probable cause if known. While there are no photographs the unique content makes this research work a must for students of WWII, aviation history, and those with an interest in aircraft archaeology.
The appendices at the back of volume three include; accident statistics, Army Air Force Stations in the U.S. 41-45, crashed aircraft by manufacturer including serial numbers, location index by state, and name index of those who died.
Few people realize that more United States military aviators and aircrew lost their lives in routine training, ferrying, and testing of aircraft here in the U.S. than were lost in combat! This book does an outstanding job of remembering those who lost their lives here at home. It is an essential reference for relatives tracing the fates of loved ones.
Reviewed by G. Pat Macha
Mayday! Mayday! Aircraft Crashes in the Great Smokey Mountains National Park 1920-2000
Jeff Wadley & Dwight McCarter
ISBN 1-57233-154-2
Death Daring and Disaster, Search and Rescue in the National Parks
Charles R. "Butch" Farabee, Jr.
ISBN 1-57098-202-3
Faded Contrails Last Flights Over Arizona (military aircraft 1942-1977)
Trey Brandt
ISBN 0-9671187-6-X
Good photos and twenty detailed stories make this an excellent read about historic accidents and crash sites in Arizona.
Santa Catalina Island Goes To War World War II 1941-1945
William Sanford White
ISBN 0-9659793-7-4
KOGA'S ZERO The Fighter that Changed World War II
Jim Rearden
ISBN 0-929521-56-0
Disappearance: A MAP, A MEDITATION ON DEATH AND LOSS IN THE HIGH LATITUDES
Sheila Nickerson
ISBN 0-385-48170-5
WRECKCHASING A Guide to Finding Aircraft Crash Sites
Nicholas A. Veronico
ISBN 0-9636332-0-1
WRECKCHASING 2 Commercial Aircraft Crashes & Crash Sites
Nicholas A. Veronico
ISBN 0-9626730-3-X
WW II WRECKS of the Kwajalein and Truck Lagoons
Dan E. Bailey
ISBN 0-911615-05-9
BROKEN WINGS Tragedy & Disaster in Alaska Civil Aviation
Gregory P. Liefer
ISBN 0-88839-524-8
The Lost Squadron A Fleet of Warplanes Locked in the Ice for 50 Years
David Hayes
ISBN 0-7868-6048-0
Colorado's Lost Squadron
Troy Turner
ISBN 97-90101

Highlights WWII bomber training losses in the Rocky Mountains.
SAFELY REST A Father's Quest to Discover the Fate of His WWII Soldier Son
David P. Colley
ISBN 0-425-20514-2
The Bomber Mountain Crash: A Wyoming Mystery
Scott Madsen
ISBN 0-96244665-0-6
Courtesies of the Heart
Kenneth Breaux
ISBN 141201165-5