This Article Appeared in the ABC Local News 30 Web Site
Link to the abclocal.go.com
Link to abc30.com streaming video news clip
---
KFSN-TV/DT abc30.com
October 18, 2005
World War II Airman Found Frozen in Glacier
October 18, 2005 - It was a plane crash back in 1942 that wasn't discovered until 1947. Now, hikers made a frozen discovery in connection with a World War II plane crash.
Hikers found the frozen body of an airman while scaling Mount Mendel Glacier in the Sequoia National Park. Now, the military is working to find out who this airman is and whether he was ever reported missing.
It's believed the airman has been frozen in the glacier for decades until a pair of climbers got much more than ever imagined on a hike.
Two glacier climbers, 13,000 feet above the national park floor on Mount Mendel, made the incredible discovery.
"They were hiking, ice climbing ... it's a pretty popular ice climbing route in K.C. and what they noticed was the head and shoulder and a part of an arm of a person at the base of the glacier that had melted out over the course of this summer," explained Alexandra Picavet, from the National Park Service.
National Park Service representatives believe the serviceman was likely part of a crew aboard an AT-7 navigational training plane that crashed on November 18, 1942.
"When we got this report, we got the report of a person wearing a parachute with a patch that said U.S. Army Corp. There was no Air Force in 1942 ... that didn't come until 1947, or after World War II," said Picavet.
In 1947, five years after the crash, hikers discovered a portion of the plane, along with four bodies. Recovery crews didn't know there was at least one airmen left behind.
Tuesday afternoon, an archaeologist and two U.S. park police officers went up to survey the area. A team of two will camp nearby to preserve the scene until the body can be recovered.
It's believed most of the plane is still preserved under the glacier above the spot the latest airman was found.
Veterans familiar with common military practices say the serviceman should have some identification on him.
The climbers who found the man said they could not find anything around his neck, but they did cut out a piece of the parachute that 63 years later is still strapped to his back.
The crash is believed to be one of many that happened in the Sierras during the 1940's and 1950's.
The Park Service is working with a number of agencies and is hoping to chisel the ice around the body on Wednesday to get the man out and eventually identified.
They say it's going to be a long, tedious process.
Copyright ©2005 ABC Inc., KFSN-TV Fresno
---
Commentary by G. Pat Macha
This crash is in my book on pg.365. The crash date was 11/18/42. The aircraft was a Beechcraft AT-7 #41-21079 USAAF lost in poor weather with a crew of four. The wreckage was finally discovered 9/24/47 on the Mendel Glacier in Kings Canyon National Park between Mt Darwin and Mt Mendel. In 1948 the US Army sent a team in recover the bodies. There was much more snow and ice in those years
Addendum
Official U.S. Army Air Corps Crash Report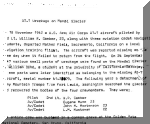 Click on picture for larger view!
This is an original document given to me by Bob Koch in1983. Bob was a USAF Search and Rescue man.
Additional Addendum
Read this is an article in the LA Times, November 14, 2005
"Lab Works to Unravel Puzzle of Soldier's ID" by Steve Chawkins
Oct 18, 2005 Oct 19, 2005 Oct 20, 2005 Oct 21, 2005 Oct 24, 2005
Oct 24, 2005 Oct 26, 2005 Nov 2, 2005 Nov 3, 2005 Nov 4, 2005
Nov 10, 2005 Nov 15, 2005 Feb 4, 2006