Aircraft Wrecks in the Mountains and Deserts of the American West
---
Picture Archive 1
Latest Pictures on page 9 - April 17, 2013

Click on thumbnail to see large view!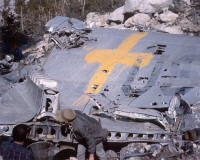 In the summer of 1963 I went to work at a YMCA youth camp in the San Bernardino Mountains of Southern California. It was near here that I happened to stumble upon the wreck of an Air Force C-47D. Seeing the remains of C-47D #45-1124 strewn on the east flank of 11,499 foot Mt. San Gorgonio (Old Grey Back) made a lasting impression.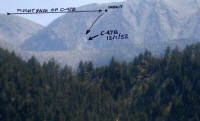 C-47D 45-1124 as seen glinting from State Highway 38 near Onyx Summit in August 2010. The wreckage continues to slide farther down the NE flank of Mt. San Gorgonio with each successive winter season.(G. P. Macha photo)
From that summer to the present I have been on the trail, whenever possible, documenting old aircraft wreck sites. Tragically thirteen men died in the crash of #45-1124 on 12/1/52. Heavy snowfall prevented rescuers from reaching the crash site until 12/21/52, but no bodies were removed until 5/3/53. One of the passengers had survived the crash, but died of exposure within days.
I took this photo of #45-1124 in July 1963. Today the wreckage has slid farther down the mountain, and the yellow X has faded, but the impact of seeing #45-1124 remains undiminished for all who pass by.