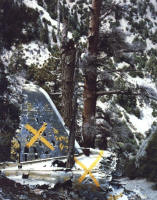 2/25/44. Curtis C-46A #41-12363 of U.S.A.A.F. hit Pallet Mountain during a winter storm, killing all four crewmen. Site is marked and highly visible on the north slope of the mountain above Devil's Punch Bowl County Park. On 10/3/66 a U.S.A.F. C-119 crashed 200 yards above the C-46.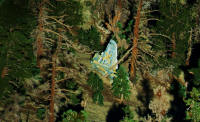 Thanks to the expert piloting of George Peterson I was able to take two photos of Curtiss C-46A #41-12363 that crashed in a winter storm on 2/25/44 killing the crew of four. After sixty-five years of weathering one side of the tail assembly is now natural aluminum, but the shaded side still retains its olive drab paint applied so long ago.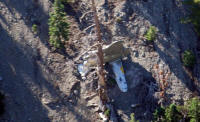 The tail assembly of C-46A #41-12363 showing the left horizontal stabilizer. Photo taken 7/22/09 by G. P. Macha.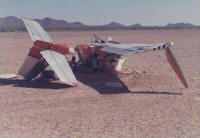 Cessna 150 on unknown dry lake bed in California or Arizona. Crash date thought to be between 1965-1968. Any help appreciated regarding this accident, most likely a fatal spin loss.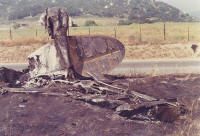 Burned wreckage of Cessna 140 N1950N that crashed killing the pilot on May 13, 1969 near Temecula, CA. Special thanks to Mike Pastore CFIA, FAA Safety Team Rep. in Illinois.